Sanctuary Rituals
Radical and sustainable transformation 
There is a place below the mind, where your deep psyche and soul live. It is a place which runs your life. Yet you may not know how to access it.
In Sanctuary Rituals, that is about to change.
Over the course of a lifetime, you have accumulated identities, habits, addictions, stories and strategies.
Together, they weigh you down like an anchor preventing your spirit from soaring.
Yet because you are human, losing that anchor may feel like losing yourself, and that makes us all resist the change we deep down yearn for.
And I'm here to tell you there is another way.
In our ritual space, you will find that powerful magic starts working in your life.
Magic which enables you to transform in ways that your mind will never understand, and which are way more sustainable.
Not only will the deep alchemy you experience in our rituals give you powerful state experiences which grant you peace and a sense of belonging, but you will start to feel a harmonic frequency start to ripple through your life, connecting you to yourself and to all creation.
As you come more and more home to yourself and to life, your inner Sanctuary will start to become a living reality, fortifying your mind, body and soul from external negative influence.
If you are committed to deep change, all the way to the root of your being, then this may be for you.
Note: These rituals are open to everyone regardless of prior experience with Reclaim your Inner Throne, and women are welcome.
A year inside of Sanctuary
Q1: Winter – The Magician Archetype
Q2: Spring – The Lover Archetype
Q3: Summer – The Warrior Archetype
Q4: Autumn – The King Archetype
"How was yesterday's Lover Archetype ritual with Tess, Brothers?"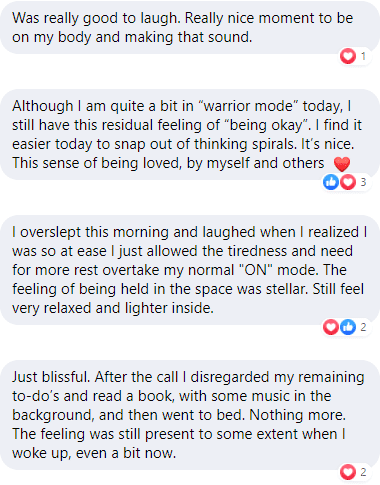 Sanctuary Vision
Sanctuary is an architecture for body, mind, spirit. It is a vision of a place of thriving that exists beyond the darkness we now see in humanity.
This thriving is for you personally and for humanity as a whole.
The totality of this vision is presented in the Seeds of Sanctuary ceremony, which some of you may have already experienced.
But for those of you who haven't, it is a vision of new life where all archetypes work together.
Where you have a field that surrounds you – an energetic dome – which protects you against propaganda, manipulation, psycho-spiritual invasion and archetypal takeovers.
You may want to try feeling that around you right now.
The vision further involves warriors standing just within this dome, ready to protect that which is within it: A beautiful grove of trees that represent all which is beautiful in your life, and at the centre a mighty oak, which has grown in the soil of your past selves.
Every person who deepens in this vision becomes a Sanctuary unto themselves, who then links up with all the other sanctuaries as a grid of thriving and life in harmony with nature.
Finally, you will come to feel how this emergence of "new earth" potentials are blessed by spirit and how you have access to communion with the universal love and knowledge which is always already present.
Inside of Sanctuary Rituals, this vision will start to become a reality for you, month after month throughout the year, so that your life falls into harmony with nature and the life-giving natural frequency of Sanctuary.
Sanctuary Rituals contain
This unique combination comprises our "Secret Sauce"
Rituals membership
Two Sanctuary Rituals per Month
Community Group on Sanctuary platform
Alchemical Transformation
Secret Sauce (see above)
Minimum 3 months is required
Next upcoming Ritual
Please refer to our Calendar to discover
when you can attend our
next ritual.