Register New Account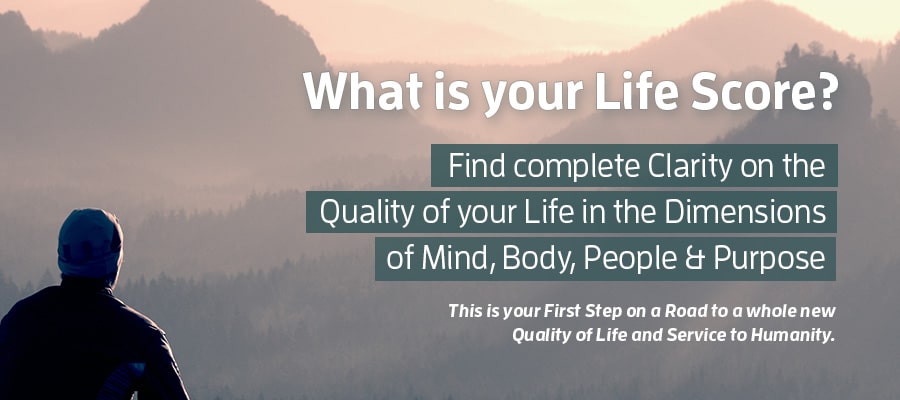 Using this simple and powerful Life Assessment tool, you can establish a clear idea of how you are doing in your life by getting your very own Life Score.
You will be mapping yourself in the dimensions of Mind, Body, People & Purpose – the official coaching framework of Reclaim your Inner Throne, in preparation for some major positive shifts in your life.
Whether you are participating in one of our men's initiations, or you intend to apply our MOVE-Protocol for goal-setting and Daily Practice, this Life Assessment is your first step towards kicking more ass in your life.
To create A World where People Thrive, we all need to get our personal and professional lives handled, and this is a powerful first step towards making it happen.
If you can't measure it, you can't improve it. – Peter Drucker
Mind
A clear, peaceful and positive mind is required to be in connection with opportunity.
Mindset
The future looks dark and scary ?
The future looks so bright I need sunglasses ?
ryit_user_life_assessment_mind_mindset
Focus
They call me ScatterBrain 3000™ ?
I am a Zen Master ?
ryit_user_life_assessment_mind_focus
Peace
I'm restless & anxious ?
I am free of worry and stress ?
ryit_user_life_assessment_mind_peace
Spirit
I'm completely out of touch with my spirituality ?
I trust in and serve a higher power/universal forces ?
ryit_user_life_assessment_mind_spirit
Memory
What was the question again?
My memory retains information, faces and names well
ryit_user_life_assessment_mind_memory
Body
A strong, energized and healthy body is a foundation for everything you do in life.
Strength
I'm really weak ?
They call me Aaanold ?
ryit_user_life_assessment_body_strength
Stamina
I run out of breath fast! ?
I can keep going until the cows come home ?
ryit_user_life_assessment_body_stamina
Sleep
I have insomnia ?
I sleep like a baby ?
ryit_user_life_assessment_body_sleep
Diet
Dip it in grease and sugar, please! ?
I have a balanced and healthy diet ??
ryit_user_life_assessment_body_diet
Energy
I have no energy or libido and feel down a lot ?
I am energized and vibrant most of the time ⚡
ryit_user_life_assessment_body_energy
People
Your relationships make or break the quality of your life.
Partner
We are disconnected and have fallen out of love ?
Our love is strong & secure and our sex hot ?
ryit_user_life_assessment_people_love
Children
We're not at all close ?
My children and I have a close relationship ?‍?
ryit_user_life_assessment_people_children
Community
I feel lonely and abandoned ?
I have a rich community and nourishing social life ?
ryit_user_life_assessment_people_community
Professional Network
I don't have access to great people
I have tons of high calibre people in my network ?
ryit_user_life_assessment_people_network
Neighbors
I have a bad relationship to my neighbors ?
I am friendly with my neighbors ?
ryit_user_life_assessment_people_neighbors
Purpose
Your self-worth and overall sense of contentment is determined in large part by how on purpose you feel with your work.
Alignment
I am not doing the work I'm here to do ?
I can't believe I get paid for what I do! ?❤️
ryit_user_life_assessment_purpose_alignment
Impact
I am not making a difference ?
My work impacts thousands of people ?
ryit_user_life_assessment_purpose_impact
Finances
I'm poor and don't understand the game of money ?
I'm abundant with money and see it's all a game ??
ryit_user_life_assessment_purpose_finances
Business Systems
It's all manual labor for me ?
My systems are optimized and make me money while I sleep ??
ryit_user_life_assessment_purpose_systems
Sales & Marketing
Gah, can someone else do this please?! ?
I have fun kicking ass with sales & marketing ?
ryit_user_life_assessment_purpose_salesmark