Because it's time for us men to find our way in a rapidly changing world. As a man, this is a confusing time. All of the identities, roles, and career paths that used to be safe ways for us to create decent lives are collapsing.
The world is changing. Fast.
Can you keep up? The truth is this: Most men can't.
And if you are one of them, you may feel that the ground you stand on is dissolving. This is challenging territory for any man.
And when you dare be real and say you're struggling, you risk being mocked by men for being "a pussy". And women may tell you to stop whining and remember your privilege. This is the world that many men live in.
Fortunately, we know of a different world. And we'd like to take 3 months of your life to show it to you.
Reclaim your Inner Throne shows you a world where all of you is needed. Where your authentic self is desired. Where men dare be powerful & open-hearted. Where men and women are allies. And where there is hope for you and humanity.
We want to show you this life. We want to show you this world.
And by the end of this training, we hope that you will want that too, and pay it forward. Because we're not just about changing one man's life. We're about creating A World where People thrive.
And it starts with helping you Make your Life of Meaning, waking up each morning, knowing who you are and where you're going.
Are you ready for that? Then we have you covered.
Your initiation begins here.
What can you expect?
Typical experiences for men who go through Reclaim your Inner Throne. (These are based on the experiences of prior participants. Results may vary.)
An increase in your power

Deepened intimacy with yourself and others

Finally knowing "I am a man, not a boy"

Reclaiming of your heart and emotions

Greater clarity and revenue in your business

An end to any lies and manipulations you have become used to.

More joy and beauty in your life

Deepened sense of Purpose

A huge reduction in feelings of shame

Better sex and better relationships

Powerful habits of growth and transformation that will carry you through the rest of your life

Membership to a powerful Brotherhood where men support each other with powerful tools year after year to kick ass in life

Turn Confusion into Clarity
The "hard facts"
The training lasts for 13 weeks.

It happens entirely online (we have proven that real journeys of initiation can and indeed do happen in this "virtual medium")

All of the contents are presented beautifully in an easy to use course portal.

Each week includes two live calls. One for teaching and one for coaching. They are both recorded.

The teaching call starts with an hour-long webinar shared by the initiation and VIP Tracks. The two tracks then split apart into different Zoom groups, in which they also stay in the coaching calls.

Every week includes inspiring reading, teaching, exercises, group work, triad work, expert interviews, and deep bonding.

All team members and participants are present on all calls, apart from your triad calls.

The training features an online community with support for live videos etc (and no, it's not a normal Facebook group).

The leaders are active on the community, essentially giving you consistent access to high-level coaching and support for three months.

We experience a very high participant engagement throughout our trainings. Dropouts happen, but are rare.

The team consists of leader Eivind F. Skjellum, course leader Seppi Garrett and assistant leader Ruben Gorseman.

The training is highly dynamic and will respond to your needs.

We may be the world's most committed team! (OK, ok. We admit we can't prove this, but it may well be true! :-))

Want to know about time and dates? See our course calendar (Phase #2 has not been fully planned yet. It will start in September.)
Are you ready to embark on this incredible journey into Clarity, Courage & Connection?
Then apply now by clicking the button below. 
Tess van der Putten is the manager of our incredible women's team, who come in to serve the men at crucial parts of the journey.
The famous podcast with Charles Eisenstein
In 2016, visionary author Charles Eisenstein interviewed Reclaim your Inner Throne founder Eivind F. Skjellum for his Masculinity: A New Story training.
It was never planned for Eivind to be part of that training, but Charles was so inspired by Eivind's work that he invited him to be part of it.
The rest is history.
The interview became exceptionally popular and has inspired men ever since. Now it's your turn to be inspired, and listen in to this conversation on the map of the Realm of forgotten Kings.
Preview of the Training
This is a recording of an introduction to the training that founder Eivind F Skjellum and course leader Karl-Otto Sandvik offered on March 25 2018,
Watch a Celebration Call
Watch the Celebration call for the men of round #12 to see the massive results that you might experience on this training.
Discover Community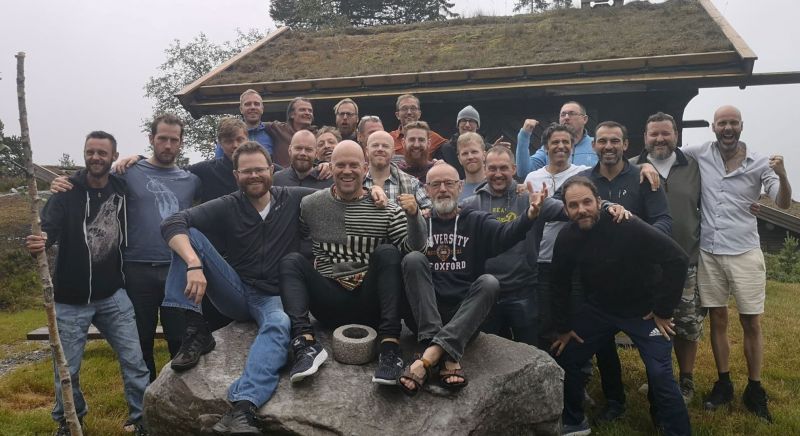 Meet Brothers such as this wonderful bunch :)
I leave the training feeling extremely happy and with more energy and enthusiasm than I have ever known. My life is more peaceful, my relationships with women are thriving and my business is booming. What's happening feels magical.
As a martial arts instructor, I found new layers of authenticity in my teaching, and it lead to me tripling my income. I also saw dramatic improvements in my family life and the way I connect with people in general. Highly recommended!
In the middle of the training, I could feel how an immature part of me was starting to die and a new part was getting born, a man who was a leader and was dedicated to serving the world. This is hands down the most powerful self-development training I've ever done.
I have been through and staffed some of the great men's work trainings available, and Reclaim your Inner Throne is the tip of the spear. If there is greatness in you, it gets exposed on this training.
RYIT was a true rebirth experience for me. For the first time, I am able to embrace and allow my full spectrum of emotions and experiences and be fully in life. Thanks to that, I am now giving myself to the world in new ways, and it has transformed my family and my business.
Uplevel your Life Plan
Apply for Reclaim your Inner Throne

Discover with us how we can best support you and if we're a good fit.

Register for the Training with link we send you

We guide you on a 13-week Quest which will Uplevel your Life

You face your life with new clarity, courage and energy
Frequently Asked Questions
It's hard to tell.
In our experience, a lot of men are more capable of facing challenges than they think they are.
Part of the magic of going on a deeply challenging journey like this one is that you get to know that you're strong enough to do so. That in and of itself is likely to create a feeling of empowerment for you.
But you may not be that committed. You may prefer comfort over truth, TV shows and potato crisps over integrity, beer and porn over cultivating presence. You may be a creature of habit. You may prefer blaming others over claiming responsibility yourself.
If you do, then this training will likely be too challenging for you. This training will peel off your protective layers and expose all of your broken life strategies. Trust us, it will.
And so if you are not yet ready to see the truth of who you are, then we recommend you postpone your journey with us until you are. Until the pain of the current is greater than the fear of change.
It's ok – take your time. We'll be here.
Early Bird rates for February 22 2021 are still available! Expires January 12 :)
Standard Group
(standard rate is $1749)
Cutting-edge course Platform
Always-open social platform
Strong team engagement on social platform
13 x 2 hour Teaching sessions with RYIT team
13 x 2 hour Coaching sessions with RYIT team
Bigger group
Integration Program available as upgrade
1-on-1 coaching available as upgrade
Life-altering breakthroughs
3- & 6-month payment plans available
Powerful Curriculum & Practices
VIP Group
(standard rate is $4479)
Cutting-edge course Platform
Always-open social platform
Strong team engagement on social platform
13 x 2 hour Teaching sessions with Eivind & VIP team
13 x 2 hour Coaching sessions with Eivind & VIP team
Intimate group with high level VIP participants
3-month Integration program
Two one-on-one coaching calls
Life-altering breakthroughs
3- & 6-month payment plans available
Powerful Curriculum & Practices
In short: The VIP track is for you if you want access to a hand-picked group of high-impact Evolutionary Entrepreneurs and founder Eivind F. Skjellum as your coach.
Which Track should you Choose?
The Fellowship is departing on February 22, 2021 and you are invited for a deeply transformational journey. If you're ready for real change and are tired of surface polish, then stop investing in your fear and take a leap of faith.
We're expecting you.